Mother of teen beat by local mall guards speaks out | News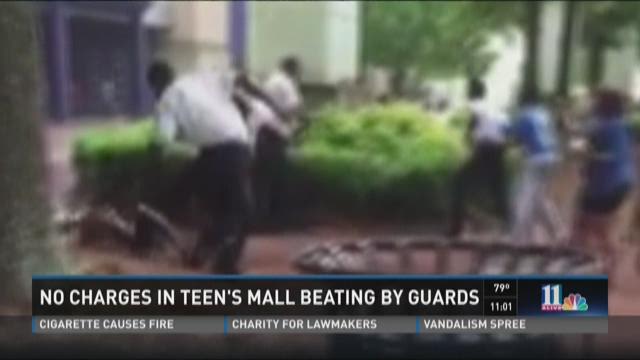 LITHONIA, Ga. -- DeKalb County police say it's clear there was a fight between security guards and a teenager at Stonecrest Mall last Saturday. What's not so clear is who started it.
And that's why police said no one is being charged.
Witnesses gave conflicting accounts of how the fight started and who was responsible for it. And, apparently, cellphone video taken of at least some of the incident did not provide enough information to help officers in their investigation.
But the mother of the 15-year-old boy seen being punched by the guards in the video said she can't believe police didn't charge the older men.
"He's a little boy… skinny; frail," said Chavella Hamm - the boy's mother. "These guards were over two-hundred pounds each... punching and kicking and slinging my son. I was so hurt [watching the video]; confused - just devastated."
Stonecrest Mall officials said the guards were suspended without pay and are not permitted back on the property.
Securitas, the company they work for, did not respond to questions Thursday night, but attorneys for the teen's family said they will seek warrants for the guards' arrest on their own.
"There was obviously a verbal back and forth," said Mawuli Davis - the family's attorney. "But the first punch was thrown by what was supposed to be a trained security officer. You don't throw all of your body weight and fists at a 15-year-old kid. That cannot be acceptable."
The family will have a hearing before a DeKalb County Magistrate Aug. 10 at 6 p.m. to present evidence and witnesses to try and support charges being levied against the guards.