DeKalb residents fight for 5 years over eyesore property | News
STONE MOUNTAIN, Ga. — Residents in a DeKalb County neighborhood have become used to the abandoned house that's been an eyesore for five long years, but after the property's recently become a dumping ground for old tires, neighbors are fed up.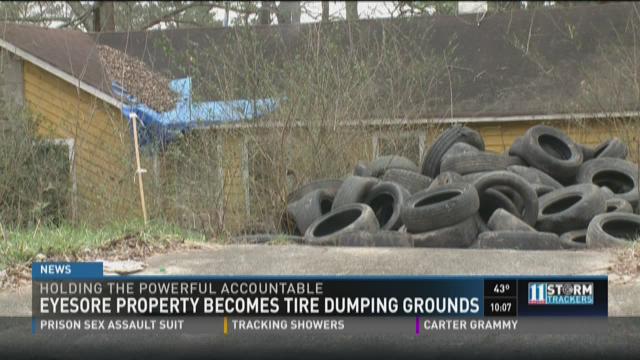 Neighbors say they've been begging DeKalb County to do something about the property on Wood Path Lane in Stone Mountain. Now they're fed up and asking 11Alive to Hold the Powerful Accountable.
"We are fed up," said Precious Hatcher, a neighbor to the dilapidated home. "We are angry as a community, and nothing has been done."
The property is the first thing she sees when she leaves the house.
"It's just a big eyesore," she said. "It's dangerous, it's unhealthy for our community."
Over the past five years, Hatcher says she has tried everything she can think of to get the yard cleaned up. She's called DeKalb County Code Enforcement, written letters, even handed out flyers in her neighborhood to try and get the word out.
"Nothing is being done," Hatcher said. "We are up to here with this situation. No returned phone calls, no response to our emails!"
PHOTOS | Abandoned property in DeKalb
While she's been at it for five years, her next door neighbor Jerry Smith has been fed up for even longer.
"It doesn't seem like we're getting anywhere with this," he exclaimed. "It seems like it's getting worse."

11Alive News' Kaitlyn Ross
called and emailed DeKalb County Code enforcement today as well, but they never called back either.
Smith says enough is enough.
"I want someone to clean this up! This needs to be cleaned up," he said.
A property records search shows that the house was foreclosed on in 2015, and now an investment company in New York owns the tax deed. Hatcher says she doesn't care who owns it, she just wants it cleaned up.
"We pay taxes here," she said. "This should be taken care of."