Shoppers, workers react after shots fired at DeKalb Co. mall | News
LITHONIA, Ga. -- Some shoppers experienced a few terrifying moments at a local mall on Saturday as shots rang out while thousands of people were inside shopping.
This happened in the afternoon hours at the Mall at Stonecrest in Lithonia, Ga. and witnesses said it started as a fight at the food court.
Two different groups of teenagers were arguing when suddenly someone pulled out a gun and opened fire.
That created mass hysteria and confusion as people fled for safety.
For what seemed like hours, congested parking lots were the scene outside of mall.
Hundreds of cars lined up trying to leave after shots evacuated the mall.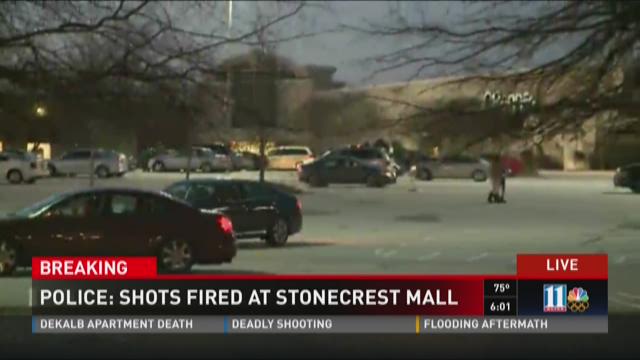 Asia Howard works in one of the stores near the food court.
"We had to close down shop," she said. "Then the loud speakers came on evacuating the mall."
Several shops were on lock-down.
Witnesses said they heard at least two gunshots.
They said there was obvious tension between two rival groups leading up to the shots.
"I started running because there was a fight with two gangs," one witness said. "And there were some shots so I started running."
"People were running, stores were closing - letting people out the back," another shopper said.
The shooting couldn't have happened at a worse time.
The day after Christmas is always a busy shopping day - especially when it falls on such a nice Saturday.
At this point, police have not reported that anyone was hurt.
Shoppers like Steven Hendricks, who was here with his younger siblings, are relieved it wasn't worse.
"I saw a bunch of kids running and screaming. I thought it was a fight. Next thing I know I hear bullets flying and glass shattering," Hendricks said. "I thought, I need to go get the kids because if something happened to them I wouldn't be able to live with myself."
DeKalb County police are still searching for suspects.
As if the shooting wasn't enough, the excitement continued even after the shooting - this time with a fire alarm.
Just hours after the shots were fired, firefighters were called to the mall for a small fire.
This happened at the makeup counter inside one of the stores.
The fire was quickly put out and no one was hurt.
In other news