DeKalb DA indicts three teens for deadly carjacking | News
DEKALB COUNTY, Ga. -- The DeKalb County district attorney indicted three teenagers Tuesday in the shooting death of a 25-year-old woman during an attempted carjacking at a gas station in October.
Cameron Williams, Demonte Grant, and Jermaine Grant -- all under the age of 17 -- have been formally charged with three counts of murder and two counts of aggravated assault. No arraignment date has been set for the three co-defendants. They will not face the death penalty.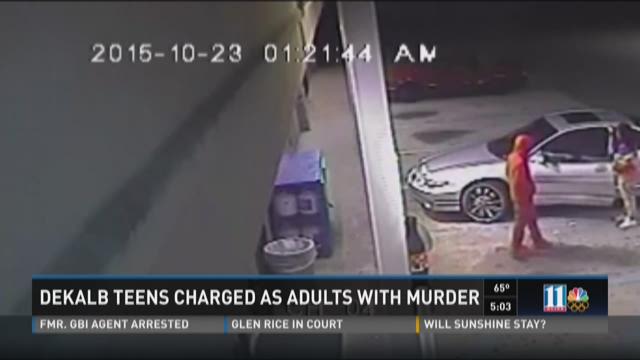 District Attorney Robert James said it was a tough decision to come to. 
"Our office takes no pleasure in charging juveniles as adults," he said at a press conference Tuesday. "However, these senseless acts of violence and this tragic loss of life begs for a response. I don't think there are any winners in a case like this."
Authorities say 16-year-old Williams was gunman who allegedly pulled the trigger and killed Shaneku McCurty on the night of Oct. 23. McCurty was an employee at a local barbershop. She was at the gas station less than three miles from her home to by a $5 lottery ticket after work.
Investigators used at least three surveillance cameras to piece together images of the incident. Police say on the night of the murder, five people arrived in a white sedan shortly after 1:00 a.m. Williams and the Grants got out of the car while the other two left the gas station. When they returned, McCurty was dead.
Relief followed the initial arrests of the three, but there was also outrage that a group so young could do something like this.
"Where were there parents and why were they out at 1 o'clock in the morning?" one of McCurty's co-workers wanted to know.
McCurty's father, Dennis, described the killers as monsters.
"They committed an adult crime and they took a life," Dennis McCurty said. "I hope they rot in jail."