Stone Mountain PD steps up security after flag theft | News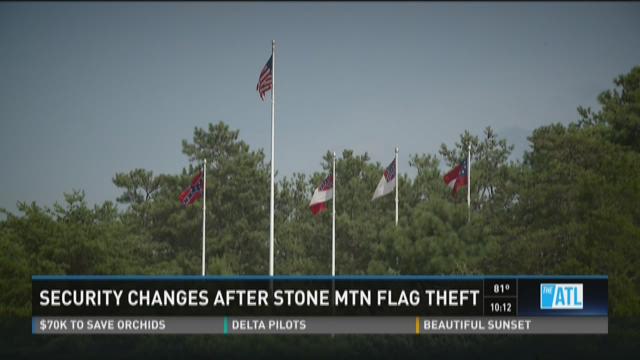 STONE MOUNTAIN, Ga. -- Authorities said someone stole the Confederate Flag from Stone Mountain early Friday amid ongoing tensions surrounding the controversial banner.
The flag has since been replaced, but the theft caught Stone Mountain police off guard.
11Alive spoke with officials on Friday to get a closer look at how that's changing security at the popular park.
There are several iterations of the Confederate Flag at Stone Mountain. But sometime early Friday morning it was the battle flag that went missing from its staff.
"We believe the person who did this came in the early morning hours and somehow jimmied the protective cover off," Stone Mountain Police spokesperson John Bankhead said.
The emblem was immediately replaced after the discovery, Bankhead said.
The crime only rises to a misdemeanor but security has now been stepped up.
"They're going to increase surveillance of the area and other measures will be taken to try and prevent this from happening again," he said.
The park is basically a museum dedicated to Georgia's Confederate history and many who use it regard the flags in that context only.
"It does bother me the fact that they want to take it down just for the simple fact that the reason we're here is this is a nation of freedom – the freedom to practice anything and everything," one visitor said. "And it's part of our heritage."
And while some choose not to come to the park because of the fiery debate between heritage and hate, others are able to look past the confederate flags to the one they flank.
"I've been walking past this flag since 1995 and it doesn't bother me at all it's a symbol but the flag that's flying high – the United States of America flag – that's the flag that matters," another visitor said.
Meanwhile, who took the flag – and why – remain a mystery.
There were no obvious signs of vandalism and no messages.
And perhaps more importantly – the other three Confederate banners were left untouched.