Lithonia police officer, child killed in accident | News
LITHONIA, Ga. -- An off-duty Lithonia police officer and a baby were killed in an early morning accident on Sunday.
The two-vehicle accident happened on Rock Chapel Road near Kimberly Lynn Drive in DeKalb County.
The baby, Melony Flood, was just 1 month old. The police officer, Jamell Dent, was days away from his 27th birthday.
Friends and family placed flowers and a teddy bear at the scene next to the tattered debris from the tragic wreck.
Dent was off-duty riding his personal motorcycle when he crashed into a van carrying Flood and her parents, James Flood and Jodie Green, both 22.
Dent died on the scene. The baby died at Children's Healthcare of Atlanta at Egleston.
According to a police report, James Flood suffered visible injuries to his right arm and a deep cut under his right eye extending to his temple. He was treated at Grady Memorial Hospital.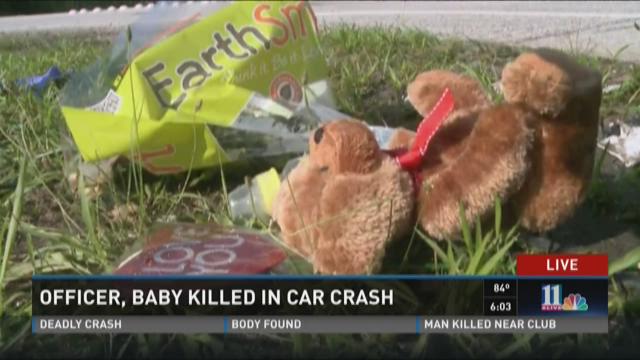 Dent comes from a law enforcement family. He spent six years with DeKalb County Police and the last seven with Lithonia. He was supposed to go to work at 6 a.m.
Lithonia Police Chief Roosevelt Smith said Dent was a dedicated public servant.
"He loved policing - that was his career," Smith said. "He wanted to make a difference. I think in the seven years he was in the DeKalb County community that he did make a difference."
Dent was assigned to the same precinct in Lithonia where the accident happened so it was many of his friends and co-workers who were the first on the scene.
DeKalb County police are still investigating the cause of the wreck.