Seven injured in overnight Lithonia deck collapse | News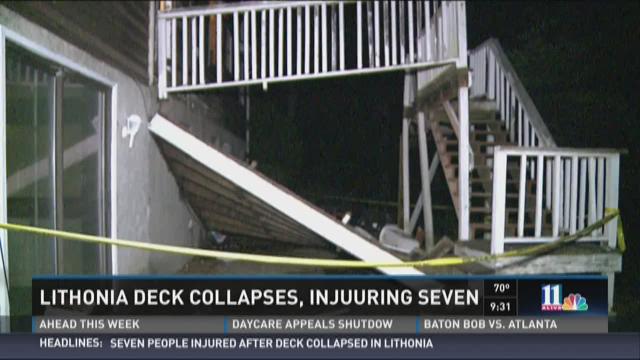 LITHONIA, Ga. -- A family in Lithonia is recovering Sunday morning after a deck collapse.
Seven were injured in the incident and were taken to area hospitals to receive further treatment.
Injuries ranged from minor to moderate, family members said.
Family that 11Alive reporter Christopher Hopper spoke to said they were standing on the deck when it started to sway and, all of the sudden, came crashing down.
DeKalb Fire and Rescue officials said the department was called to the Lithonia home at about 10 p.m.
Officials said the deck was old, dry-rotted and only held up by nails – not bolts.
A family member who wasn't hurt in the incident took 11Alive through those frightening moments.
"I stepped out from that door right there on this deck [and] the deck swayed out and swayed back in and fell," she said. "I stepped out on it and it fell," Helen Brown said.
One man 11Alive spoke with said there were four elderly people on the deck.
He said the landlord should be held responsible.